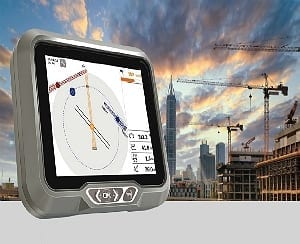 DRIVING CONTROL SYSTEM
The Anti Collision system guarantees site safety by managing interference between cranes and no-fly zones. It makes your work even easier by displaying useful settings for operating the crane.
No-fly zones are created in just a few seconds using the most suitable geometric shapes: polygon, right angle, cones, or circles.
They can be programmed at the foot of the crane or remotely via the radio network.
The system constantly saves the crane's movements and all parameters. This event log can be downloaded and shared by email, facilitating crane maintenance.
The Anti Collision system is suitable for all kinds of cranes and can manage up to 125 machines on a single site.
---
COLOR CONTROL SCREEN
The Color control screen displays the following information:
The cranes movements and load, slewing position, trolley position, hook height and travelling position Static (no-go zones) and dynamic (other cranes) obstacles. All other information that may assist productivity: date, time, load, moment, wind speed, jib position
---
THE IDEAL TRACKING TOOL FOR SITES
Track activity control on your site in real time, all the time, from wherever you are! Via its radio connection with the sites anti-collision network and technology, the activity control system can be used to collect, record, and view the movements of every crane fitted with the anti collision system in a single screen